Christian Persuaders Podcasts
In this Christian Persuaders interview, Alex Banfield Hicks speaks with Os Guinness about seeking and the four phases a seeker goes through:
A time for questions
A time for answers
A time for evidence
A time for commitment
"Freud was dead wrong when he talked about belief being a crutch, 'cos the fact is no one believes because they have needs. What their needs do is help them disbelieve what they used to believe that no longer satisfies. So life becomes a question and they set out and search for answers."
Os also talks about the influences of Francis Schaeffer and Blaise Pascal on his apologetics.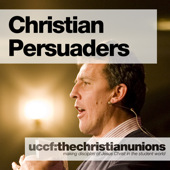 UCCF's Christian Persuaders podcast offers a series of interviews with Christians from around the world who are gifted and passionate about communicating and defending the Christian Gospel.
Alex Banfield Hicks talks to experienced apologists and evangelists who share their wisdom with a new generation of speakers.
If you have further questions or need more information, e-mail Charlie Butler.
© 2010 UCCF