Christian Persuaders Podcasts
In this Christian Persuaders interview, Alex Banfield Hicks speaks with
Nick Pollard
from
Damaris
about:
parallels between church and cinema
"prophetic study"
positive deconstruction
Evangelism Made Slightly Less Difficult.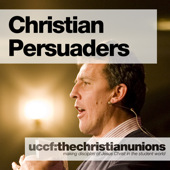 UCCF's Christian Persuaders podcast offers a series of interviews with Christians from around the world who are gifted and passionate about communicating and defending the Christian Gospel.
Alex Banfield Hicks talks to experienced apologists and evangelists who share their wisdom with a new generation of speakers.
If you have further questions or need more information, e-mail Charlie Butler.
© 2010 UCCF