The Odd Life of Timothy Green
This article first appeared on the Damaris Film Blog and is a discussion guide which is suitable for everyone. Damaris Film and Bible Blog articles are designed for people who are interested in thinking further about films, and about what the Bible has to say about the issues raised.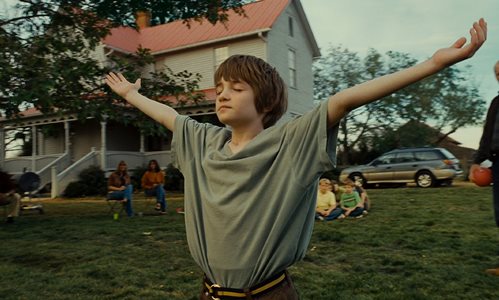 Summary
Cindy and Jim Green (Jennifer Garner and Joel Edgerton) are a happily married couple who can't wait to start a family, but can only dream about what their child might be like. When young Timothy (CJ Adams) miraculously appears on their doorstep one stormy night, Cindy and Jim – and their small town of Stanleyville – learn that sometimes the unexpected can bring some of life's greatest gifts.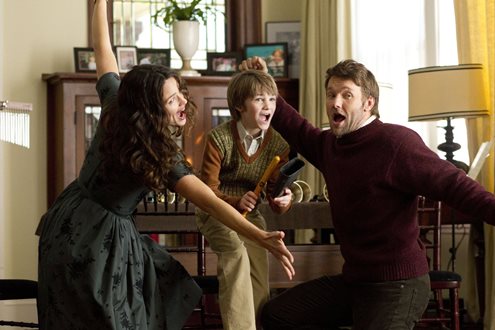 Background [1]
Warning: contains plot spoilers
Academy Award nominated writer-director Pete Hedges (Dan in Real Life, About a Boy) adapted The Odd Life of Timothy Green from an original idea by producer Ahmet Zappa. Hedges, a father of two, was drawn by the story's universal appeal, and its combination of magical elements with reflections on family life. 'Timothy Green asks the question, do children belong to us? I've come to believe that our children don't belong to us, but that we belong to them.'
The filmmakers wanted to look at Timothy's impact, not only on his immediate family, but also on other families and the wider community. Zappa explains: 'Timothy is a magic mirror into people's lives. He has a mission to teach his parents, and at the same time, give the town of Stanleyville clarity and let them see each other for who they really are.' Hedges had previously worked with young actor CJ Adams on Dan in Real Life in 2007, and felt that his 'sparkle and vivid imagination' made him perfect for the role of Timothy.
Jennifer Garner (Juno) was cast as Cindy Green due to her 'humanity and depth', and her ability to move back and forth between comedy and drama, while Joel Edgerton (Zero Dark Thirty) was cast as Jim due to his combination of strength and vulnerability, and chemistry with Garner.
The Odd Life of Timothy Green was filmed in Atlanta, an area which allowed for the shooting of autumnal landscapes over the winter period. Production designer Wynn Thomas drew inspiration from the earthy colour palettes of iconic American artists Norman Rockwell and Edward Hopper, as well as the surreal work of photographer Gregory Crewdson.
Peter Hedges intended the finished film to have a timeless quality. 'I believe that when your intentions are clear, and your execution is good, and your heart is in the right place, magic is possible. We were trying to achieve something magical with The Odd Life of Timothy Green and hopefully we succeeded.'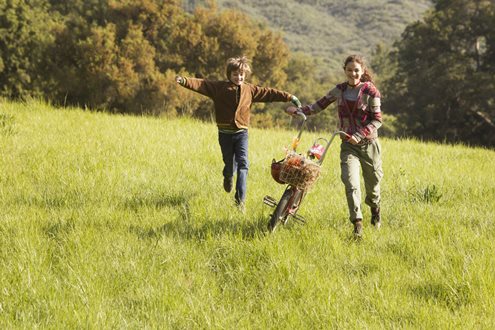 Film title: The Odd Life of Timothy Green
Keywords: Adoption, parenting, families, love, hope, disappointment, goodness, compassion
Director: Peter Hedges
Screenplay: Peter Hedges
Starring: Jennifer Garner, Joel Edgerton, CJ Adams, Odeya Rush
Distributor: Walt Disney Studios Motion Pictures (USA/UK)
Cinema Release Date: 15 August 2012 (USA); 5 April 2013 (UK)
Certificate: PG (USA); U (UK) Contains no material likely to offend or harm
Questions for Discussion
NB: Some questions in this guide are designed for use as a family, or with a children's group. Look out for the 'suitable for children' icon, and choose questions to suit your group. You may, of course, need to adapt the language, depending on the age of the children.
For a key to the symbols used, click here.
Did you enjoy the film, and why? Who was your favourite character, and which parts of the story particularly stood out to you?

What makes The Odd Life of Timothy Green a good 'family film'? Did the adults and children in your group view the film in different ways?

In what ways did the production design in The Odd Life of Timothy Green help to tell the story? How did choices made in areas such as costume, lighting and sets reflect the story's themes?

How might Cindy and Jim Green have been feeling at the beginning of the film, before Timothy arrived? Why did they write down their dreams and bury them in a box? If your parents had made a box like this for you, what might have gone into it?

'You're not the only one with a secret.' – Joni (Odeya Rush)
Why did Joni hide her secret, and how did Timothy help her to feel better about herself? What things can sometimes make us feel different from other people, and what can we learn from Timothy's attitude?

What expectations do Cindy and Jim have of parenthood, and how does the real experience match up to these expectations? How did you respond to the choices they made and the emotional journey they went on throughout the film?

Cindy and Jim express the view that 'To be part of making something is a great feeling.' What kinds of creativity do we see in The Odd Life of Timothy Green? What are the different kinds of things we can be involved in making, and why do we get such a good feeling from being creative?

The Odd Life of Timothy Green is one of three films released in 2012-2013 which involve a character who embodies someone else's wish (the others being Ted and Ruby Sparks). What is appealing about these stories, and how might they reflect wider trends in our culture? What might be some of the issues involved if we start viewing our real-life children, friends or romantic partners as personal 'wish-fulfilment'?

What makes Cindy and Jim good parents, and what difficulties do they face in being parents to Timothy? What might be the most fun and rewarding parts of being a mum or a dad, and what are the more challenging parts?

'It's not that we wanted him to be perfect. We wanted it to be perfect. His childhood.' – Cindy

Do Cindy and Jim's actions and attitudes stay true to this statement throughout the film? How do they try to give Timothy a 'perfect' childhood, and what mistakes do they make along the way? In what sense might mistakes be an essential part of the parenting process?

'He felt like mine from the first time I saw him.' – Cindy

What are the special qualities of parental love, and why is it so crucial that children experience this love? What lifelong impact can parental love have, particularly when extended to somebody who is not a biological child? How does this relate to the way in which the film ends?

'About my leaves – I gave them all away. It's what you do with gifts.' – Timothy

Which characters does Timothy give his leaves to, and why? How does he help to bring new hope and life to the people he meets? What 'gifts' have we been given in our lives that we could share to help others?

'It was all very sudden, and kind of miraculous.' – Cindy

What is a 'miracle', and are miracles possible in real life? How can we find hope in times when life feels difficult or disappointing? Will this hope always come in the way we expect?

It has been said that Timothy is a 'Messianic figure' – that is, a character who displays parallels with the life of Jesus. In what sense might Timothy be a Messianic figure? Are there any parallels between his time with the Greens and the Gospel accounts of Jesus's life (such as these sections of the Bible: Luke 24:1–12, Mark 14:7)? If so, what do you make of these parallels?
Footnotes
[1] See The Odd Life of Timothy Green production notes.
© 2013 Damaris Trust