Paddington
Hannah Rowe's film review and discussion guide to Paddington, helps us think through the ideas and issues raised by the film.
Summary
In darkest Peru a young bear (Ben Wishaw) has grown up in the care of his Uncle Pastuzo (Michael Gambon) and Aunt Lucy (Imelda Staunton). But these are no ordinary bears. After the visit of a British explorer (Tim Downie) many years before, Pastuzo and Lucy have learnt to talk. They are fluent in British manners and have a passion for marmalade. The family dreams of visiting the London the explorer told them about, where he promised they would always receive a warm welcome. When a violent storm destroys their idyllic life, Aunt Lucy sends her nephew to fulfil the family dream. With a suitcase filled with jars of marmalade, his Uncle's hat (complete with emergency marmalade sandwich inside) and a label saying "Please look after this bear, thank you", the young bear stows away on a ship bound for the golden city.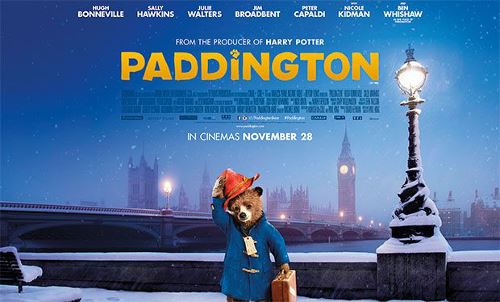 Warning: This article contains major plot spoilers.
When he arrives, however, all is not quite as expected. In the hustle and bustle of Paddington Station no one replies to a small bear's polite greetings and requests for a home. Enter the Brown family – Mary (Sally Hawkins), Henry (Hugh Bonneville) and their children Jonathan (Samuel Joslin) and Judy (Madeleine Harris). Untrusting Henry hurries them past the forlorn-looking bear but Mary takes pity, naming him Paddington and offering shelter.
As the clumsy, kind-hearted bear starts to make friends and learn how to live in this strange new world, the search for a permanent home becomes the least of his worries. For a fanatical taxidermist (Nicole Kidman) has heard of the arrival of this unusual specimen and has her sights set on a new addition to her collection. How will Paddington escape her evil clutches? As the Browns begin to realise that they need Paddington just as much as he needs them, can they help him in time?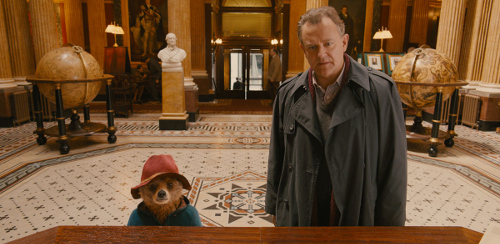 Background
I bought a small toy bear on Christmas Eve 1956. I saw it left on a shelf in a London store and felt sorry for it. I took it home as a present for my wife Brenda and named it Paddington as we were living near Paddington Station at the time. I wrote some stories about the bear, more for fun than with the idea of having them published. After ten days I found that I had a book on my hands. It wasn't written specifically for children, but I think I put into it the kind things I liked reading about when I was young. Michael Bond[1]
Little was Bond to know that the publication of A Bear Called Paddington in 1958 was the beginning of a hugely successful franchise, with Paddington Bear featuring in more than 150 books of varying formats and starring in several television series. Now the marmalade-loving bear stars in his own feature film. Paddington's director and screenwriter, Paul King (Bunny and the Bull, 2009; The Mighty Boosh, 2004-2007), says that "more than anything" they "wanted to be true to the Michael Bond Stories".[2]
The character of Paddington was animated by Framestore, who worked on the award-winning Gravity (2013). Although having a bear as a main character was in some ways a challenge, Bond explains that it brings many positives:
The great advantage of having a bear as a central character is that he can combine the innocence of a child with the sophistication of an adult. [...] He gets involved in everyday situations. He has a strong sense of right and wrong and doesn't take kindly to the red tape bureaucracy of the sillier rules and regulations with which we humans surround ourselves. As a bear he gets away with things. Paddington is humanised, but he couldn't possibly be 'human'. It just wouldn't work.
Paddington was voiced by Ben Wishaw (Skyfall, 2012;Bright Star, 2009), a late addition to the project after Colin Firth departed by mutual agreement. Producer David Heyman (The Harry Potter series, 2001-2011; Gravity, 2013) explains: "he knew before we knew that he wasn't right. His voice was too mature, too deep. It didn't have that youthful spring".[3] Hugh Bonneville (Downton Abbey, 2010-2014; The Monuments Men, 2014) and Sally Hawkins (Blue Jasmine, 2013; Great Expectations, 2012) star as Henry and Mary Brown. King was really pleased with their performances:
They spent a day together without me, improvising, and then the next day we all worked together and by the end of that day we'd rewritten all their scenes. They're properly funny and so good at getting under the skin of a slightly bickering married couple.[4]
Bond's inspiration for Paddington was partly taken from wartime memories of evacuee children passing through train stations: "They all had a label round their neck with their name and address on and a little case or package containing all their treasured possessions. So Paddington, in a sense, was a refugee, and I do think that there's no sadder sight than refugees."[5] Heyman highlights this theme, describing the story of Paddington Bear as "a classic immigration story in many ways, about someone looking for a home".[6]
This theme shines through in the film's soundtrack, which features the calypso songs played by the immigrant community who made their home in Notting Hill, where Paddington eventually settles, at the time Bond first started writing the books. King comments: "This is the music being made in the place where these books were written, by people who arrived on these shores. It felt like such a glorious gift – they are really upbeat positive songs – for the most part – all about that experience."[7] King also had the band, D Lime, playing onscreen at points in the story, and he believes that this "adds to the magic of our London that there's always a band playing the song that happens to reflect your feelings."[8]
King believes that for animated characters, such as Paddington, to work well in films the setting needs to be a "slightly magical universe".[9] He explains that they "tried to make London heightened enough that the idea of a bear walking down the street wasn't a freak of nature, where it's a curiosity but you won't call the police".[10] King further explains how they went about creating this 'heightened' reality:
It was nice to use some of those visual devices that maybe aren't in every kid's talking animal film, and I had to justify them, I suppose, but it was quite easy to say we're trying to tell the story of an outsider, and he keeps looking at different worlds he could be part of – like London in the snow globe, or the doll's house, and he always feels at a remove. It's a simple image system, but it works really nicely, it's nice to be able to use some of those visual flourishes and give you something a little different from what you might be used to.[11]
88-year-old Bond, who has a cameo in the film, has declared it "a delight from start to finish".[12] Critics largely agreed with this assessment.The Guardian called it "a charming and sweet-natured family film, full of wit and fun, skewed towards young children but cheekily speckled with sly gags pitched at the older audience".[13] Meanwhile Empire concluded that "Marmaladen with gloriously silly jokes, pitch-perfect performances and incidental detail, this is a warm, witty and wondrously inventive great big bear-hug of a movie."[14].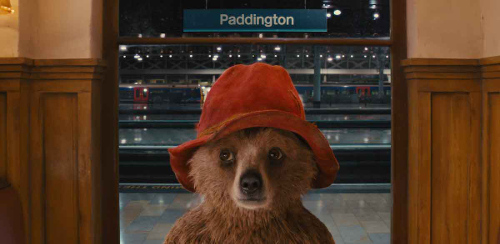 Film title: Paddington
Director: Paul King
Screenplay: Paul King and Hamish McColl, based on the books by Michael Bond
Starring: Ben Whishaw (voice), Julie Walters, Sally Hawkins, Hugh Bonneville, Peter Capaldi, Jim Broadbent, Nicole Kidman, Michael Gambon (voice), Imelda Staunton (voice), Matt Lucas
Distributor: Studiocanal
Cinema Release Date: 28th November 2014
Certificate: PG (UK) – dangerous behaviour, mild threat, innuendo, infrequent mild bad language
Questions for discussion
Did you enjoy the film, and why or why not? What were your favourite moments? If you've read the Paddington books, how did the film compare?

What did you think of the film's aesthetic? How is London presented? What interesting visual devices are used to tell the story, and what effect do these have on the viewer?

What did you think of Paddington? Did he make you laugh? How did you feel when he was alone at the station?

What other characters and parts of the film made you laugh? Why did you find them funny?

How did you react to Millicent? Did you find her scary? Why or why not? Do you think she received a suitable punishment at the end?

"This family needed that bear, every much as he needed you." – Mrs Bird (Julie Walters)

What effect does Paddington have on the Brown household? How do the different members of the Brown family change through knowing Paddington? How did you respond to the film's portrayal of the family dynamic?

"Follow these simple rules and you will always feel at home in London." – Montgomery Clyde

"London is not how we imagined it. Nobody ever says hello or wears hats." – Paddington

What do Paddington, Aunt Lucy and Uncle Pastuzo think London is going to be like? How does Paddington find it different? Why do you think this is? Can you think of a time when you went somewhere that wasn't exactly how you imagined it?

Mary: Paddington's the best thing that's happened to the children, they're happy.
Henry: How can they be happy if they're not safe?

Why is Henry concerned about having Paddington in his house? How have Judy and Jonathan been affected by Henry's obsession with safety? How do your parents try to make sure you are both happy and safe?

"Do they play cricket?"
"Do they drink tea?"
"That's a rum idea of civilised you've got." – Members of the Geographers' Guild

How do the attitudes of the Geographers' Guild – and the way Paddington is treated in London – compare with common attitudes to immigrants and migrants in our society? Can we learn anything from Montgomery Clyde about how to integrate cultures? Can you think of any positive examples of this happening in real life?

"They will not have forgotten how to treat a stranger." – Aunt Lucy

Why does Aunt Lucy think that British people will look after Paddington? How is Paddington treated when he arrives in London? Why do you think people treat him like that? How do you think we should treat people who are new to this country, or to our schools or friendship groups?

Mary: We can't just leave him here.
Henry: Of course we can, he's not our responsibility.

Do Mary and Henry have any responsibility for Paddington? What responsibility, if any, do we have for people who aren't part of our family or social circle? How do we define what is our responsibility and what isn't?

"Mrs Brown says that in London everyone is different but that means that anyone can fit in." – Paddington

Why do we like to feel that we can "fit in"? Are there times when you have felt different? What was it like? How can we celebrate one another's differences?

"I soon learned that home is more than a roof over your head." – Mr Gruber (Jim Broadbent)

How would you describe your home, and what do you like about it? What do you think Mr Gruber means when he says that "home is more than a roof over your head"?

"We love Paddington and that makes him family." – Mary

How did a bear from Peru become part of a British human family? Do you know any people that you would call family, but who aren't related to you? How did these relationships come about? To what extent is the old saying 'blood is thicker than water' true, and how does the story of Paddington challenge this concept of family?
Footnotes
[1] From the official Paddington website.
[2] Chris Hewitt, 'Paul King Talks Paddington', Empire, accessed 28th November 2014.
[3] Sheryl Garratt, 'Paddington producer David Heyman: "I Still Have My Teddy Bear From When I Was Four"',The Telegraph, 23rd November 2014.
[4] Chris Hewitt, 'Paul King Talks Paddington', Empire, accessed 28th November 2014.
[5] Michelle Pauli, 'Michael Bond: "Paddington Stands Up for Things, He's Not Afraid of Going to the Top and Giving Them a Hard Stare"',The Guardian, 28th November 2014.
[6] Sheryl Garratt, 'Paddington producer David Heyman: "I Still Have My Teddy Bear From When I Was Four"', The Telegraph, 23rd November 2014.
[7] Tim Masters, 'The Story Behind Paddington's Calypso Songs', BBC News, 28th November 2014.
[8] Tim Masters, 'The Story Behind Paddington's Calypso Songs', BBC News, 28th November 2014.
[9] Chris Hewitt, 'Paul King Talks Paddington', Empire, accessed 28th November 2014.
[10] Chris Hewitt, 'Paul King Talks Paddington', Empire, accessed 28th November 2014.
[11] Chris Hewitt, 'Paul King Talks Paddington', Empire, accessed 28th November 2014.
[12] Michelle Pauli, 'Michael Bond: "Paddington Stands Up for Things, He's Not Afraid of Going to the Top and Giving Them a Hard Stare"',The Guardian, 28th November 2014.
[13] Peter Bradshaw, 'Paddington Review - Charming and Cheeky', The Guardian, 27th November 2014.
[14] Chris Hewitt, 'Paddington', Empire, accessed 1st December 2014.
© 2014 Hannah Rowe