Locke: cracks in the foundations
Ivan Locke is just an ordinary man. He is a caring father and husband, and is due to spend the evening watching the football with his wife and two sons, eating hot dogs and cheering for his favourite team. He is also a respected construction manager. The following morning, he will be overseeing a concrete 'pour' for the foundations of a new skyscraper in Birmingham. It's a multimillion dollar project and one of the biggest in Europe.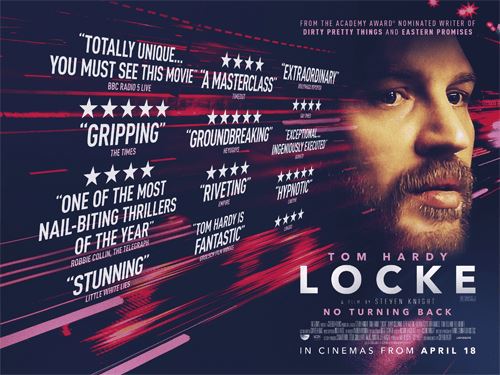 Warning: This article contains major plot spoilers.
Instead of sticking to these plans, Ivan gets into his car after work and begins driving with determination towards London. As he drives, he makes and receives a series of phone calls that reveal a surprising secret. Maintaining his calm, he speaks to his wife, sons, boss, assistant, council officials, and a woman he barely knows. Over the course of this 85-minute race down the M6, the journey turns out to be far more interesting than the destination: we're hearing about the construction of a building, but we might be watching the demolition of a life.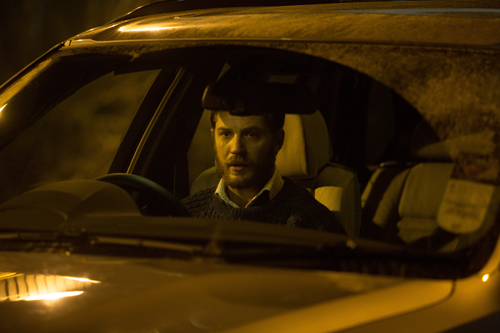 Cracks appear
In the last year, we've seen some remarkable chamber-piece performances. In Gravity, Sandra Bullock faced the cosmic claustrophobia of space. For All Is Lost, Robert Redford found himself trapped alone on a sinking boat. Now, in Locke, Tom Hardy isolates himself in the comfortable interior of a BMW. We see no other faces but his, in close-up, for 85 solid minutes. Technology keeps him connected to the outside world: his car phone rings insistently, filling the vehicle with the voices and personalities that make up Locke's life. The traffic is light, but the subject matter is heavy; this intimate portrait of a single man at a critical moment reveals some important truths about the human spirit under pressure.
Ivan Locke is a methodical, meticulous man who likes to be in control. He works as a construction foreman and is known by everyone as a master of organisation. He files his reports early, carefully checks every piece of machinery by hand and dedicates himself entirely to each project. He knows how to solve any problem and his reputation is unblemished. The action of the film takes place on the eve of his most significant achievement yet. At 5:45am, Ivan will oversee "the biggest concrete pour in Europe outside of nuclear and military projects". Local roads will be closed in order for 218 trucks to arrive with a highly specific grade of concrete, which will form the foundation of a new skyscraper.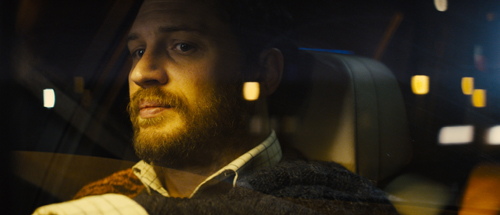 Locke possessively refers to it as "my building", describing it with frightening enthusiasm: "Eventually, when my building is complete, it will be 55 floors high, and it will weigh 2,223,000 metric tons. Okay? My building will alter the water table, and squeeze granite. It will be visible from twenty miles away. At sunset it will cast a shadow that will be a mile long." He becomes surprisingly lyrical when he talks about it. Speaking on his car phone, he explains to his assistant why he is so dedicated to the project: "You do it for the piece of sky we are stealing with our building. You do it for the air that will be displaced. And most of all, you do it for the f****** concrete, because it is delicate as blood."
Concrete follows Locke wherever he goes. The dust of it gets into his clothes. He tramples it through his family home on the soles of his shoes, where it dries into stubborn prints. It clings to him, and in return he loves it with a fierce dedication. It rapidly becomes a metaphor for Locke's own life: solid, but fragile. Locke himself explains: "If the concrete at the base of my building is cracked, if it slips half an inch, cracks appear. Cracks appear, and they will grow and grow, and one day the whole thing will collapse. You make one mistake, one little f****** mistake, and the whole world comes crashing down around you!" This, it transpires, is the very heart of the film. The foundations of Locke's life have a crack, and it's not long before the whole thing will collapse.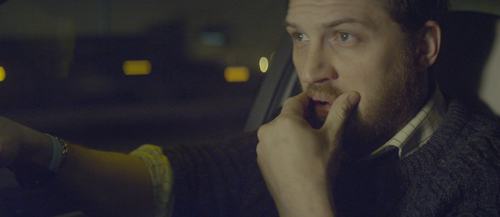 One way road
Locke has made a mistake of the kind that causes everything to come crashing down. He is usually a dependable family man, devoted to his wife and two sons. However, whilst away on a work trip, he met Bethan. She's fragile and needy, she's certainly "no oil painting" and, in fact, she's "quite old, 43 or something". Over two bottles of wine, they began chatting. She talked about how she was lonely. Locke talked about how he was happy. Yet he was moved by her loneliness and now, seven months later, she is giving birth to his child. The birth is so premature that Locke has not yet told his wife about his mistake, or even quite explained it to himself.
Locke, like his namesake, believes in practical solutions. Faced with so much complexity, there's only one thing he knows for sure: he needs to be in London for the birth of his child. He's made this decision before the film begins and constantly reasserts, "I will do what needs to be done". Having positioned himself on a one way road to Bethan, he must inform everyone else of the situation. First, there are his work colleagues. They're understandably furious that he's abandoned the pour at such a crucial moment. It's entirely out of character, and ultimately unforgivable. Locke is determined to see things through, directing his assistant over the phone to enact the various preparation procedures on his behalf. Unfortunately, it's not enough to save his job and he is viciously fired over the phone.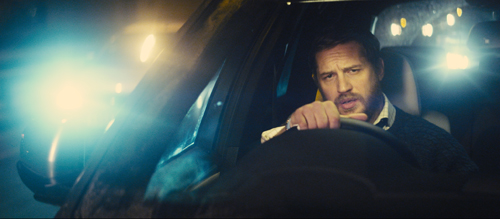 Secondly, there's his family. His wife is understandably distraught over the news and she's also angry. "You're more in love with your buildings anyway", she spits, "Why don't you go live in one of them, right at the top?" He insists that everything will be ok, and that his "mistake" with Bethan was a one off. His wife sees things rather differently, claiming: "The difference between never and once is the difference between good and bad." Locke has no retort.
Backseat driver
Is one mistake enough to destroy an entire life? Logically, Locke cannot believe that it is possible. He's determined to take responsibility for the situation, and to fix it. It's his own "fault", he insists, and so it's his job to put it right. "I'll fix it, it'll all go back to normal", he tells his wife. It follows his basic life philosophy: "No matter what the situation is, you can make it good."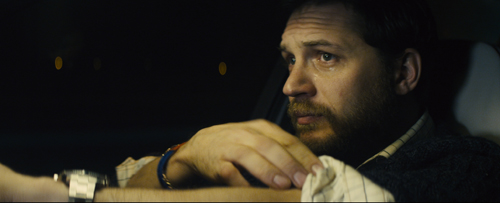 Unfortunately, as the writer Jeanette Winterson puts it, "Our minds are more like a maze than a motorway." In this moral maze, Locke cannot rely on the logical progression of 'practical next steps' to solve everything. Instead, he decides that he must separate the inherent value of his actions from the reactions of others. "I will do what I must", he resolves, "if they hate me or love me."
However much he loves his wife, however much he cares about the concrete, however little he knows Bethan, something more fundamental drives him to do what he thinks is right. This something is his own childhood, which he recounts in emotive monologues delivered to an invisible backseat driver. His own father made a similar mistake in having Locke, and they didn't meet at all until Locke was 23. It seems that he is cursed to follow in his father's footsteps and he bemoans the truth that "the apple never falls far from the tree".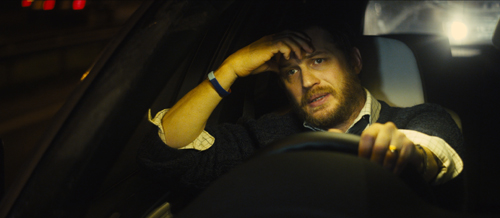 What Locke does have control over is what happens next. Rather than leaving his child to come into the world fatherless, he will be there. He will give it his name. He will balance the wrongs of his past by doing this one act of good. Finally, he will take control. "It's me driving", he yells at his absent father, "not you." It's all embodied in the moment, close to the start of the film, when he suddenly decides to turn right instead of left. It's a decision not to take the easy road, but the right one. As Locke puts it, in order to be in the right place, "I'm gonna drive for the worst place, the worst place for me to be."
That place is the Croydon hospital towards which Locke races. It's all the more urgent because there are also complications with the birth, as a panicked Bethan explains over the phone. The umbilical cord is caught around the baby's neck, forming "a lifeline and a noose at the same time". This is just what the baby represents for Locke himself. It's a lifeline, offering him an opportunity to do what's right in defiance of his own upbringing. It's also a noose, promising the death of his career and his family.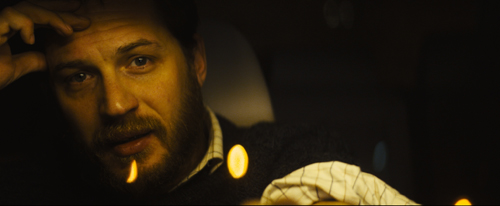 Building on the rock
Locke is faced with the painful reality that, however devoted, rational and moral we may feel ourselves to be, we all make mistakes. The Bible acknowledges that this is a fundamental characteristic of fallen humanity. James 3:2 says, "Indeed, we all make many mistakes." Often these mistakes seem out of character. Like Locke, we might feel that we have behaved not at all like ourselves. We may even struggle to understand our own actions. Paul, writing in Romans 7:15 puts it like this: "I don't really understand myself, for I want to do what is right, but I don't do it. Instead, I do what I hate."
The truth is that if, as imperfect humans, we attempt to construct the foundations of our own lives, we are bound to make mistakes and end up with cracks. Locke insists that, "you don't trust God when it comes to concrete", but in fact the Bible suggests the opposite. No matter how hard humans may work, and how organised they may be, it is all meaningless. Psalm 127:1 claims: "Unless the Lord builds a house, the work of the builders is wasted."
Jesus explains it in a vivid story of two men. One builds his life on the foundation of Jesus's teaching, which is solid as a rock. No storms or winds can cause it to collapse. Another, however, ignores Jesus's teaching and builds his life on another foundation, but it soon collapses "with a mighty crash" (Matthew 7:24–27). What are our lives based on? Is the foundation really as solid and dependable as we like to think? If an emotional or moral storm were to hit, would we stand firm, or collapse under the strain? What would it take to demolish our lives completely? Locke poses some difficult questions for a society of people living in the fast lane.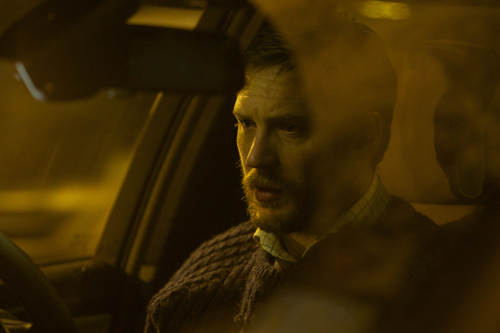 Keywords: Mistakes, family, work, honesty, identity, love, loneliness
Film title: Locke
Director: Steven Knight
Screenplay: Steven Knight
Starring: Tom Hardy
Distributor: Lionsgate (UK); A24 (USA)
Cinema Release Date: 18 April 2014 (UK); 25 April 2014 (USA)
Certificate: R (USA); 15 (UK) Contains very strong language
Questions for reflection
What motivates Locke to make his "mistake" originally? By contrast, what motivates him to try and put it right? Did the conclusion of the film suggest that he has made the right decision, the wrong decision, or was it indifferent? What lessons, if any, might it therefore have for us when we face the difficult consequences of our own mistakes?

Read Matthew 7:24–27. What comparison is Jesus making in this story? What might it mean practically to build your life on something? How might following Jesus's teachings make you more resilient to life's storms?

How do we decide what is most important to us: our jobs, our family, our friendships, integrity, honesty, success, moral-uprightness, etc.? What do we do in situations when these priorities come into conflict, as they do for Locke? Should doing "the right thing" always be the most important priority?
© 2014 Rachel Helen Smith