Juno
Nicola Lee considers Juno to be 'a girl for all seasons'. Her review takes us through the four seasons of the film.
Autumn
Amid falling leaves and beautiful skies, quirky teenager Juno MacGuff (Ellen Page) drinks 'like, ten tons of Sunny D', takes three pregnancy tests, and discovers that she has a big problem. As she tells the father, her mild-mannered friend Paulie Bleeker (Michael Cera), these situations, if left unchecked, typically lead to infants. So Juno decides to take matters into her own hands. Deciding against abortion, Juno and her best friend Leah (Olivia Thirlby) set out to find the perfect adoptive parents for the unborn child.
Warning: This article contains significant plot spoilers
The stage is set for an irreverent insight into the life of a pregnant sixteen-year-old, and yet the ways in which Juno approaches these thorny issues are never predictable. While the plot revolves around the processes of pregnancy and adoption, the heart of this film is the eponymous Juno and the eclectic cast of supporting characters who accompany her through this interesting episode in her interesting life.
It was the characters that attracted Reitman to the film: 'I like that the characters defy convention and are people who make personal, as opposed to political, choices for themselves, just like in real life.' And lead actress Ellen Page suggests that the unique, yet unforgettable personalities that populate the screen are the secret to the film's success: 'When someone is honest and whole and well-written, you're gonna be able to connect to them, no matter what their life, because we're all made up of the same stuff.'[1] Juno is certainly not the average Hollywood portrayal of a sixteen-year-old girl. Eloquent and quick-witted, she is also a compassionate and courageous young woman, far removed from the common conception of teenagers as sullen, self-centred or obsessed with image. Along with the highly creative dialogue, this instinctively likeable heroine is the best explanation for this relatively low-budget comedy from a novice screenwriter managing to earn four Oscar nominations, dozens of other awards and well over $100 million at the box office.
The narrative of Juno reflects experiences of both screenwriter Diablo Cody and director Jason Reitman. Cody based the story on an incident in her teenage years, when one of her close friends became pregnant and chose not to have an abortion. Reitman was able to empathise with the other side of the situation, his parents having adopted a child when he was twelve. This personal understanding of the subject matter may be responsible for the high level of realism and believability which typify the way scenes and characters are portrayed. Not only does the film Juno rarely stray far from real life either in its dramatic or comedic moments, but the character Juno is also refreshingly free of artifice. Only thinly veiled by the banter that pervades her conversation, Juno's thoughts and feelings are never disguised, and she seems fearlessly honest in her relationships with her friends and family. Having determined to go through with the pregnancy, Juno breaks the news to her father and stepmother and, in response to their disappointment in her, frankly admits, 'I don't really know what kind of girl I am.' When we face problems in our lives it is all too easy to bottle up our feelings and try to cope with things on our own. Juno's openness and honesty are some of the most attractive characteristics of her personality, but they also provide her with an effective means of coping with the challenges of life.
Winter
As the year progresses, and her condition begins to show, Juno gets to know her chosen family – wealthy suburban couple Mark and Vanessa Loring (Jason Bateman and Jennifer Garner) – and we get some deeper insights into all the characters. There are no villains in this film, and very few stereotypes. Juno's gruff father, Mac MacGuff (J.K. Simmons), reveals a warm and loving heart. Her dog-obsessed stepmother, Bren (Alison Janney), is a true parent and a constant support to the irrepressible teen. Bren's sympathetic portrayal was inspired largely because writer Diablo Cody, a stepmother herself, was fed up with the way step-parents are always presented negatively in films. Even the Lorings, who first appear to be a typical yuppie couple, are soon revealed as having hidden depths. As Juno gets to know them, she discovers 'dovetailing interests' with Mark, and they find themselves discussing music and slasher films together for many happy hours. A chance encounter with Vanessa in the mall enables Juno to observe the prospective mother of her child showing good parenting potential in her interaction with a little girl. When Juno allows Vanessa to feel the baby kicking, the joy she displays makes it obvious that, despite her perfect, and somewhat sterile, pristine house, she will provide a loving home for the child.
Like Juno herself, her peers are not stereotypical teens. This is made evident to us early on when we are told that, contrary to popular belief, high school jocks are secretly more keen on 'freaky girls' than cheerleaders. However, we see it more clearly as we watch how Juno's closest friends, Leah and Bleeker, behave during her pregnancy. Leah is one of the popular cheerleaders in the school, yet she has a crush on her bearded maths teacher, and is happy to hang out with Juno, a self-proclaimed 'freaky girl'. Leah seems to have no worries about her image, and doesn't allow Juno's pregnancy to affect their friendship at all. Bleeker is athletic, but nothing like the stereotypical macho jock: he is sensitive, able to show his emotions and very obviously devoted to Juno so that the pregnancy does not change his feelings for her. In many ways, it adds not only to the charm, but also to the realism of Juno to have such original and multi-faceted characters. People are always more complicated than stereotypes suggest, and the film captures that truth clearly. However, the way in which Juno, Leah, and Bleeker seem to accept everyone without prejudice, or concerns about the high school cliques familiar from films like Mean Girls, is not an attitude which is commonly found in real life. Many people find themselves trying to conform to certain ideas of what they ought to look and be like, as well as judging other people on superficial or stereotypical grounds.
Spring
With the due date drawing near, the drama in Juno's life intensifies. She argues with Bleeker, then discovers that the Loring's domestic situation isn't as perfect as she'd hoped. Upset and disillusioned by having to cope with situations 'way beyond [her] maturity level', Juno must find a way to restore her faith in humanity if she is to see any hope for the future, for herself and her baby. The crisis points in Juno's story emerge when people are unable to accept who they are. Mark Loring, for instance, provides the perfect example of the perils of striving to be someone you're not. 'He's a guy who thinks he's younger than he is, who thinks he's cooler than he is', explains actor Jason Bateman. 'He's 38, but dresses like he's 18 or 28.'[2] Clinging to this delusion pushes Mark's marriage to breaking point, and makes him a less than ideal candidate to parent Juno's baby, causing distress to both Vanessa and Juno. Managing to avoid this trap, however, Juno learns to be fully herself by accepting her true feelings, and finding someone who loves her for exactly who she is. Having done this, she finds the freedom to accept that she and her baby can have a future despite the fact that life isn't always perfect or even normal. Ellen Page identifies this lesson as, 'an extremely universal message, about growing up being true to yourself, and that's really what matters.' Knowing ourselves is important if we are to deal with our problems with integrity.
Summer
All crises resolved, and true love found at last, Juno ends with sunny scenes of contentment for its protagonists. Being resolutely true to herself and courageously honest, celebrating uniqueness, and facing life's problems head on, Juno has succeeded in understanding more about what kind of girl she is, and found a way to live happily in a bizarre world. Although she is not an obvious role-model, many of us could probably benefit from imitating parts of Juno's approach to life. Greater honesty in our relationships with others could help us to find support and understanding when things get tough. The Bible also encourages honesty with God, letting him know how we feel and not being afraid to ask him for help. Not judging or stereotyping others is also a great rule for life, and one which is emphasised in the Bible. The world around us may not be as open and accepting of our differences as Juno and her friends might be, but Christians believe in a God who accepts and values everybody, and therefore we too should treat everyone as worthwhile, regardless of their social status or situation.
The importance of knowing and accepting our identity is another concept which Juno causes us to consider. However, while Juno is extremely self-aware and is able to understand herself and her feelings accurately by the end of the film, we do not always find it that easy. The Bible suggests that, to truly know ourselves, we need to get to know the God who created us. It enables us to properly understand our place in the world, and how we ought to respond to the challenges of life. Screenwriter Diablo Cody asserts that Juno 'raises a lot of questions about love, freedom, marriage and where we're ultimately supposed to wind up in life.' The overarching impression that Juno gives is that it's better to be yourself than to conform to the expectations of others. The film is a touching affirmation of the value of every individual, and an encouragement to find out what kind of people we are.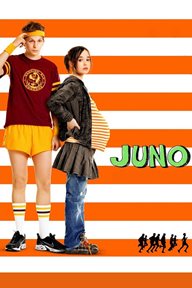 Film title: Juno
Keywords: Identity, teenagers, family, love, pregnancy
Tagline(s): A comedy about growing up ... and the bumps along the way
Director: Jason Reitman
Screenplay: Diablo Cody
Starring: Ellen Page, Michael Cera, Jennifer Garner, Jason Bateman, J.K. Simmons, Alison Janney
Distributor: Fox Searchlight
Cinema Release Date: 5 December 2007 (USA); 8 February 2008 (UK)
Certificate: PG-13 (USA); 12 (UK)
Buy Juno from Amazon.co.uk
or from Amazon.com
---
Unattributed quotations are taken from the film.
References
[1] Elizabeth Leitch, 'Ellen Page on Uniqueness', HollywoodJesus.com
[2] Electronic Press Kit.
© 2008 Nicola Lee