Inkheart
Stories can be very powerful, drawing us in and helping us forget the trials of everyday life. Good ones give us the feeling of being transported into a fantasy realm of exciting, exotic, even dangerous characters. But what if we really could be transported into another world? And what if those characters were transported into ours? That's the premise of Inkheart, based on the first book in children's author Cornelia Funke's best-selling trilogy.
Living Words
Meggie (Eliza Bennett) wonders why her mother disappeared, why she and her father, Mo (Brendan Fraser), are constantly moving, and why he scours every bookshop for one particular book. What Meggie doesn't realise is that Mo is a 'silvertongue'. As he reads a story, the characters come to life – and somebody from the real world disappears into the story. Unfortunately, Mo only discovered this when Dustfinger the fire-eater (Paul Bettany) and the evil Capricorn (Andy Serkis) appeared after he read their story aloud.
While Capricorn enjoys the opportunities this world offers him, Dustfinger yearns to be home again. Dustfinger finally catches up with Mo, pleading with him to read him back into the story. But Mo, terrified of the consequences, refuses and soon Mo, Meggie and Aunt Elinor (Helen Mirren) are Capricorn's captives, and Meggie discovers the truth of her own story.
Inkheart is entertaining, exciting and wonderfully inventive. It's a sparkling fusion of the worlds of fantasy and reality, and it raises some important issues along the way. As well as highlighting the importance of family and history in understanding our identity, it stresses the importance of values like loyalty, integrity and selflessness.
Inkheart is, above all, a story about stories. Besides entertaining, thrilling or terrifying us, stories bring ideas to life. When we read stories, or see them on-screen, we encounter ideas, values and perspectives that are different from our own. As we reflect on them, we can discover important truths for our own lives.
Of course, the most important stories are the true ones. Incredibly, the most important of all is a story about someone coming into our world from elsewhere. Jesus Christ wasn't read into existence by a silvertongue, but as God's son, he purposefully stepped into our world and became a man in order to die for us. It's interesting that the opening of John's Gospel refers to him as 'the Word'. At Christmas time, we have another opportunity to reflect on this amazing story of hope and rescue for humanity; the greatest story in the world.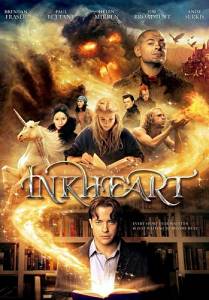 Film title: Inkheart
Keywords: Stories, values, ideas, imagination, truth, reality
Tagline(s): Every story ever written is just waiting to become real
Director: Iain Softley
Screenplay: David Lindsay-Abaire, based on the novel by Cornelia Funke
Starring: Brendan Fraser, Eliza Bennett, Paul Bettany, Andy Serkis, Helen Mirren, Jim Broadbent
Distributor: Entertainment (UK); Warner Bros. (USA)
Cinema Release Date: 12 December 2008 (UK); 23 January 2009 (USA)
Certificate: PG
© 2008 Tony Watkins