Feel: Robbie Williams
Robbie Williams' biography Feel, written in collaboration with Chris Heath, has received wide critical acclaim. Heath – a music journalist – is Robbie's friend and confidante, and was given unprecedented access to Robbie so he could write this detailed book. Indeed, Heath spent over a year following Robbie round and recording the details of his daily life. This is certainly a well-researched book, and was actually commissioned at Robbie's request.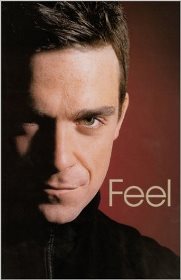 Feel is a highly unusual official biography. It isn't written in the first person by a ghostwriter, as so many celebrity biographies are. Instead, it is written in the voice of Chris Heath and reads like a diary that shows us a year in the life of Robbie Williams. The book is broken down into small snapshots of the events, confrontations, conversations and situations in that period to help the reader understand who the real Robbie Williams is. This is an amazingly honest book; we hear Robbie's opinions on just about everything, and are confronted with Robbie's mistakes and behaviour in a variety of situations. The publisher claims that it 'is a quite extraordinary book. No other star has ever been the subject of such an honest or insightful book. Incredible detail and revelation is to be found in the book… It's an entirely new perspective on the peculiar world of fame.' And for once, this book is exactly what the publishers say it is! The Sunday Telegraph has even called it 'one of the great documentaries of our time.'
Robbie Williams rose to notoriety when he was selected to be a member of the boy band Take That, who went on to achieve massive success in the early 1990s. Robbie - a born entertainer - loved the attention and fame until it all started to go wrong. He became hooked on drink and drugs, and began to despise the other members of Take That and the band's manager. He therefore quit the band and, after a short break (made necessary by his drug addiction), launched his solo career and has never looked back. In 2002, he signed a sensational record deal worth £80 million, and his career so far has produced six albums, including his Greatest Hits album released in 2004. He also entered the record books when he performed to over 375,000 people in three days at Knebworth in the summer of 2003.
The aim of this book is to uncover the person behind the Robbie Williams phenomena, his achievements and struggles, warts and all. He was known as the 'cheeky chappy' from Take That, and Feel shows just how much this description is still true. Feel presents Robbie as a mass of contradictions. He longs to get married and have children, yet he is not prepared to make the effort to sustain a relationship and sleeps around. He behaves like a spoilt child, demanding that his staff satisfy his every whim in an instant; he often won't get up until his Starbucks coffee has arrived, and he demands tickets to sold out concerts before deciding he can't be bothered to turn up. Robbie even says of himself: 'I'm like a little child, I have to be entertained at all times'. When he doesn't want to carry on with something he isn't enjoying, even if it is work or for someone else's benefit, he will simply walk away. He comes across as very egotistical, yet at the same time he is very insecure and admits that he hates himself. Robbie has struggled hard to beat his drug and drink addiction, but now is dependant on the drugs he takes for depression. Heath admits that at times Robbie seems to be 'a needy, insecure, contradictory egomaniac who would like to be loved and prefer to be left alone exactly at the times and in the proportions that suit him'.
The most telling aspect of this book is its discussion about fame, and how Robbie both loves and hates it; his ability to deal with it seems to be at the heart of Feel. Heath comments on the 'psychotic time we live in as far as fame is concerned' and the way in which the public both love, and love to hate, those in the public eye. We see Robbie react to the many lies that are published about him in the tabloids. We also see Robbie's virtual imprisonment enforced by his fans who stalk him at his house, in his hotel and even on the streets. Also included are extracts from the deluge of begging letters and fan mail he gets, showing how deluded some of the writers are. Robbie is a victim of his own success; at times he loves these fans and chooses to sleep with them, at other times he hates them. He needs them to buy his records and turn up at his concerts, yet he is almost always rude to those who approach him for a chat or an autograph. For Robbie, being famous is not as glamorous as the public imagine it to be; it has only made him 'miserable and rich' because he has to constantly hide from his fans and live in virtual isolation.
The allure of fame is something that has gripped our culture, and the advent of reality TV has created more celebrities than ever before, many of whom have no talent to justify their notoriety. Fame is highly attractive because it can affirm an insecure person's identity; it can give someone the significance that they long for and the worship of adoring fans is likely to deliver an ego boost. Feel breaks the myth of this fame; Robbie seems to be more insecure and in need of love now than he ever did before he was famous. As Robbie says, 'What happens with fame is you spend the beginning bit striving to get there, and the rest of your career surviving it'.
It's difficult to know why Robbie has been so open in this book, and what his aim has been in writing it. It can't be to make more money. It could be to show his fragility, to show how hard it is to be a celebrity in this day and age, to cry out for help. What is clear throughout the book is that Robbie longs to be loved and respected, to be reassured that he is valuable as a person for who he is and not just because of what he has achieved. But fame and money have not given Robbie the self-assurance he seeks. Only when Robbie and others like him understand how much they are loved by the God who created them will they understand their true and intrinsic value. God longs for every person in this world to come to Him, to admit their need of Him and to live in a right relationship with Him. God offers us unconditional love if we acknowledge our sin before Him, and he promises to love us for who we are and not what we have achieved. This is the self-assurance that Robbie longs for and that we all need.
Title: Feel
Author: Robbie Williams with Chris Heath
Publisher: Ebury Press
Publication Date: 1 September 2004
© 2004 Louise Crook