Ben Hur - revenge or redemption?
'Ben-Hur' probably makes you think about Roman slaves, chariot races, Charlton Heston and perhaps the 'urban legend' that Heston can be seen wearing a wrist watch in the film's famous, spectacular chariot race.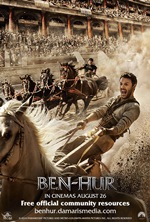 Paramount and MGM Pictures have updated the classic 1959 film, with their remake due for release on 26 August 2016 (certificate: TBC). The films are based on Lew Wallace's 1880 novel, Ben-Hur: a tale of the Christ.
Ben-Hur is the epic story of Judah Ben-Hur (Jack Huston), a prince falsely accused of treason by his adopted brother Messala (Toby Kebbell), an officer in the Roman army. Stripped of his title, separated from his family and the woman he loves (Nazanin Boniadi), Judah is forced into slavery. After years at sea, Judah returns to his homeland to seek revenge, but finds redemption. The film also stars Morgan Freeman and Rodrigo Santoro.
Here is a taster for the new film.
A special trailer for Ben-Hur, created especially for church groups.
This clip can be downloaded via Vimeo.
Dr. Geoff Tunnicliffe, Former Secretary General of the World Evangelical Alliance, is impressed by the re-make:
Ben-Hur is a remarkable gift to the global Church. It is a full on epic movie with incredible cinematography. But it also has powerful story line of faith, reconciliation, forgiveness and hope – a message that our world is aching to hear. Christians can rally behind this film. They will be greatly inspired. It will touch millions of lives for the good.
Damaris Media are providing free official community resources for the new film (cert. TBC). They have produced a Discussion Guide designed for use by church groups, as well as a Youth Activity Pack for youth groups of all kinds. Also available is a video trailer specially created for the church (see video above), with further special videos to come. For full details of the Damaris Media Ben-Hur resources, go to their Ben-Hur web page.
The Church Discussion Guide provides thought-provoking questions and fun activities to help church groups talk and think about the themes of Ben-Hur, such as faith, hope and redemption.
Download it here.

The Youth Activity Pack will help young people think about relevant issues raised by Ben-Hur, such as the challenges of growing up, and being change-makers in the world. It is designed for use by youth groups of all kinds.
Download it here.
See what other people are saying about the new Ben-Hur.
References:
Wikipedia, Ben-Hur (1959 film), https://en.wikipedia.org/wiki/Ben-Hur_(1959_film) (accessed 9th July 2016).
Wikipedia, Ben-Hur (2016 film), https://en.wikipedia.org/wiki/Ben-Hur_(2016_film) (accessed 9th July 2016).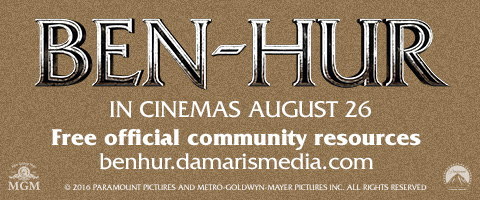 © 2016 Damaris Media and bethinking.org
This article was adapted from the Damaris Media Ben-Hur resources page, with thanks.