Stop Taking Sides
'You can't let those people think they could have voted for Donald Trump and actually be Christians' (8). Adam Mabry received this feedback on one of his sermons from a member of his congregation. The next day he received feedback from someone else, lamenting the fact he had been 'too easy on the lefties' (9).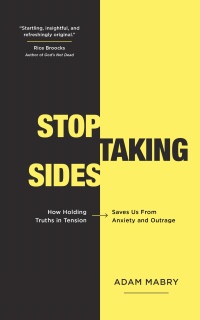 Experiences like Mabry's are becoming all too common. We live in an increasingly polarised world. Now it seems that almost any issue is 'framed as us-verses them identity-based struggles'. This environment is a minefield for Christians to navigate. In Stop Taking Sides Mabry shows 'how holding truths in tension saves us from anxiety and outrage'. Mabry persuasively argues for the need to hold things in tension and to resist the temptation to view everything as a tribal, black and white, pick-your-side affair.
Mabry persuasively argues that we must resist the temptation to view everything as a pick-your-side affair
Mabry focuses on nine issues, devoting a chapter to each. To name a few: 'Sovereignty and Responsibility', 'Us and Them', 'Politics and Kingdom' and 'I and We'. In each chapter Mabry walks through (with helpful personal examples) how easy it is to not hold these important matters in tension and how easy it is to act in an ungracious manner to those who don't have the same emphasis as you do. He then goes on to show the reader what the Bible says about the issue and how it affirms both 'x' and 'y' and he warns against the excesses of either side. Mabry then concludes with application for the Christian about how to lovingly and graciously hold the matters at hand in tension. This structure for his chapters was very helpful as it helps the reader really understand the issue at hand and with the application at the end, he ensures it is not merely a theoretical discussion.
There's a lot to praise about this book. The author shows humility in admitting his own failings on the issues raised in the book. For instance, in the chapter on Sovereignty and Responsibility he tells us of a friend saying to him 'I don't know if you're right, Adam. But the way you're acting makes me want nothing to do with this idea, if this is what it turns you into' (19). He emphasises throughout the book that it's not just the issue itself that matters, but how we conduct ourselves as we talk about these profound topics.
Where relevant, Mabry talks about where our culture is on certain issues and the approaches we see around us. His cultural engagement is helpful, particularly in the chapter on 'Politics and Kingdom' where he helpfully shows us the dangers of putting our hope in politics:
If his party wins, he wins. If it loses, he not only loses but faces an existential crisis. It's not just that he's not ok; he cannot be ok. Why? Because he's relocated his peace from the unchanging promises of God to the changing winds of politics. (132)
Mabry's solution is that by 'embracing the biblical tension between present politics and the future kingdom, we can develop the virtue of justice not only in ourselves but in our cultures' (148).
This is an important book that highlights the need for nuance and grace
Stop Taking Sides is a well-written, well-reasoned book so there is not a lot to criticise. However, I'm not sure it fully delivers on the subtitle's claim that holding truths in tension can save us from anxiety. Anxiety was referenced in the book a few times, but it could have benefited from a bit more fleshing out of exactly how Mabry's encouragement to hold truths in tension reduces anxiety. Nevertheless, when Mabry does address anxiety, he does so with biblical truth and pastoral care.
Mabry puts forward a helpful and humble approach in how Christians should engage with some of the prevalent theological, political, and personal issues of the day. Stop Taking Sides is an important book that highlights the need for nuance and grace in the Christian walk and thus it is a book that speaks powerfully into our time and culture. I would wholeheartedly recommend this book to anyone who wants to understand how to hold biblical truths in tensions in an increasingly polarised society.
Adam Mabry. Stop Taking Sides: How Holding Truths in Tension Saves Us from Anxiety and Outrage (Good Book Company, 2020)