Where was God when that happened? - a review
"How dare you create a world in which there is such misery that is not our fault? It's not right…Why should I respect a capricious, mean-minded, stupid God who creates a world which is so full of injustice and pain?"
This was the reply Stephen Fry gave when asked what he would say if he met God.
Fry's comments capture the outrage we can feel towards a God who is powerful enough to stop suffering and yet seemingly lets it go unchecked. His was a coherent and seemingly logical attack on the Christian faith. Many would have found it incredibly hard to say anything positive or helpful in response. What would you say?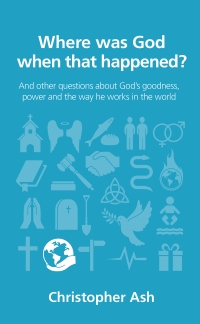 Where Was God When That Happened? points us towards some answers. It is immensely useful. I'm amazed by how well it deals with different aspects of the vast topic in under 100 pages. That doesn't mean it is a speedy read – it gets you thinking and pondering some very deep things, but it is accessible.
Written for Christians thinking or revisiting this question, Christopher Ash highlights six different views people might have around this question, then dives into the biblical picture around this vast topic. He rightly says that this is 'a question asked by any thoughtful person' (8) which makes it helpful to focus on at any stage of life. Yet he constantly tries to push us beyond our narrow human thinking to help us 'get hold of what it means for God to be God' (15).
It's amazing how well Ash deals with this vast topic in under 100 pages
Ash doesn't skirt around the difficult and tricky pastoral issues. He engages evenly with each aspect, never seeming rushed but allowing the reader space to think as well. At the end of most chapters he dips into a related practical question such as 'Does God care about the little things in my life?' (28), which is a question that naturally flows from looking at God's incredible power.
As I read, I felt a growing confidence in God's goodness and the certainly of his control, while being able to see the subtle elements where I simply won't have all the satisfactory answers here and now when it comes to suffering. This book certainly would strengthen someone's faith and I think would be better read by Christians than simply given away to a non-Christian friend. But it has lots of useful parts that I might refer to in a challenging conversation.
I found the frequency of biblical references to be just right, helpfully putting Ash's logic in a wider context but not suffocating me as a reader. A non-believer might find it a bit heavy-handed. There are some blindingly obvious moments which help shed light on what the Bible says about God and humans:
The lot is cast into the lap but its every decision is from the Lord
(Proverbs 16:33)

You are a mist that appears for a little while and then vanishes
(James 4:14)
There are some great pastoral references too:
Every reader of this book will have moments when we want to say "I'm afraid I can't bring myself to believe in a higher power. Not now." Or can I? (9)
Where was God when that happened? is a useful tool, touching on many different strands of the suffering question, but cannot be the definitive word on the topic given its brevity. If you've never done any thinking around this area or haven't for a while, go pick up this book and have a good refresher. But be warned – it might make you want to go out and buy more books about suffering and God's sovereignty.
Christopher Ash, Where was God when that Happened? And other questions about God's goodness, power and the way he works in the world. The Good Book Company, 2017. 96pp. £3.31