The Writing on the Wall
In The Writing on the Wall, Maggi Dawn sets about doing what John Stott called "double listening" – "it means that we're called to listen both to the Word of God, and to today's world, in order to relate the one to the other". In a deft move, she explains the Bible to the culturally literate, and culture to the biblically literate. This is no mean feat, requiring a collection of the most culturally iconic Bible stories and a whistle-stop tour of Western art right up to the 21st century.
Understanding Western Art
Dawn follows the narrative of the Bible from creation to Revelation, stopping at stories like Noah's Ark, Daniel in the lion's den, the prodigal son and Jesus's betrayal, to provide the full text of the story. She follows these with thoughts on the story's significance and meaning in the form of paintings, music, poetry and sculptures, all from the canon of Western art. There is not space for her to fully critique every example, but the book is a treasure trove for anyone wanting interesting illustrations to use in sermons or with a youth group.
Culturally central
Dawn is insistent – and rightly so – that the Bible is central to an understanding of art in the West. Few would disagree: H.G. Wells called it "The Book that has held together the fabric of Western civilisation" and Coleridge claimed that "For more than a thousand years the Bible […] has gone hand in hand with civilisation". Here, these claims are brought to bear on current cultural production as much as on classical works. From Handel to Belle and Sebastian, Van Gogh to Monty Python, this book chronicles the pervasive and powerful influence of the Bible, and draws our attention to the ways that it has been interpreted by artists throughout history.
What the book lacks in detail, it makes up for in scope, showing the myriad ways in which a culture that has lost interest in the Bible is still being influenced by it. It is extremely readable and would make a great gift for a culture-loving teenager or student who needs to get to grips with the Bible, or for church leaders who want to find new ways to talk about well-known stories.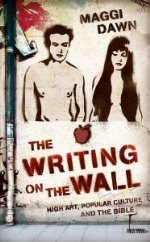 Book Title: The Writing on the Wall: High Art, Popular Culture and the Bible
Author: Maggi Dawn
Publication Details: Hodder & Stoughton. 262 pages. £16.99
ISBN: 978-0-340-98003-3
Buy from Amazon.co.uk
Buy from Amazon.com
© 2010 Evangelicals Now
This review was originally published in the October 2010 edition of Evangelicals Now. It is published here by the kind permission of the author. For a free sample issue or to subscribe to Evangelicals Now, click here.