My Booky Wook
Russell Brand compares his arrival on the entertainment scene to a conversation between two old ladies at a bus stop. The bus is late. On eventually sighting it, the first old lady says, 'Oh look, the bus is coming.' The other, wiser, lady quips, 'The bus was always coming.'
Sexaholic or Sage?
Described as 'showman, shaman and sex-machine all rolled into one',[1] Brand's portfolio and influence are rapidly expanding. Firmly established as a TV chat show and radio show host, and the stand-up comic of the hour, Brand has the entertainment industry at his feet. How did this Essex boy from Grays leap onto to the kind of stage where he gets to put down Tom Cruise in an interview? Largely, it seems, by sheer force of character. The bus was always coming.
Brand has set out to reclaim something quintessentially English. Dressed as a twenty-first century Artful Dodger, his wit and bawdiness and love of scampish capers, endear him to his audience. For all his lunacy and debauchery, and there is plenty of that, Brand is remarkably articulate. Self-taught, primarily because of his inherent disrespect of any educational institution, Brand has an intimidating power of recall. Combine that with the comic's ubiquitous love of recounting stories and it was almost inevitable that he should turn his considerable talent to the written word.
My Booky Wook is an excruciatingly frank window into Brand's upbringing and spares no detail of his history of abuse or of his plunge into addictions, both sexual and chemical. The strong adult content is delivered with a flippancy that will be familiar to readers of Ben Elton or David Baddiel. The difference is that Russell Brand's huge celebrity status has ensured that his work is reaching far more widely. The autobiography topped the charts with over half a million copies sold thus far, suggesting that Brand's appeal has broadened way beyond the niche audiences that his early material carved out. Within the covers there is a lurid, yet compelling, chronicle of Brand's existence prior to fame. His key breakthroughs and subsequent success are related only in the final couple of chapters.
At every stage in My Booky Wook, it is difficult to tell where the truth ends and where the comic material begins. Brand's stand-up is overwhelmingly autobiographical and so, since the stories that comprise his material are no doubt exquisitely embellished for effect, one naturally questions whether it really happened the way he tells it. Brand is a master of self-expression and convinces well, yet the artful comedian never lets reality dampen a punch-line. The art of comedy is about expressing and distorting reality, giving yet another twist to the yarn. Consequently Brand's anecdotes are equal measures tragic and trivial. They demonstrate an 'elastic reality' that stretches all credulity with flights of fantasy, only to snap back to the deadly serious in a heartbeat.
Within this see-saw of horror and humour we see Russell Brand develop as a man stripped of fear, which has the effect of making him an oddly compelling figure. His admittedly reckless and destructive lifestyle fascinates as much as it repels. His principle of living free from self-judgement and the judgement of others might be widely admired among his target audience, yet few follow through to the same extent as he has. Brand was unblushingly committed to the cause of enjoying himself as much as possible, only to find himself years down the line as an addict seeking help in drugs rehab and sexual addiction therapy. Brand's rejection of fear, social conventions and morality illustrates the classic hedonists' paradox, namely, that the pursuit of pleasure moment by moment may itself not be pleasurable. The search for higher highs, and the desperate attempts to avoid lows, lead to behaviour that is more and more dependent. The consequences of living from one hit to the next resulted in a life in which fear replaced the freedom Russell Brand sought to live by.
Although his fledgling career provided the finance that fuelled his addictions, his self-destruction began to catch up with him, almost to the extent of prematurely ending that career. Brand was fired from MTV when he turned up for work dressed as Osama bin Laden – on 12 September 2001. Tour gigs ended with Brand becoming aggressive and heckling his audience or, worse, smashing a bottle and engaging in self harm. Ultimately, as Brand himself confesses:
Had I not gone into treatment, I do honestly feel that I would either be dead now, or living a life so close to death that it would be difficult not to take the final step. I don't think that's melodramatic, that's just the way I was going.
Now clean and sober for six or so years, Brand is a new man and his projects know no bounds. Launching into film, he starred in Forgetting Sarah Marshall and plans to alternate between stand-up tours and Hollywood. Perhaps for a little variety, Brand has turned his sizeable intellect to penning a personal contribution to the world of philosophy. There is a distinct whimsical tone that plays throughout My Booky Wook, as Brand plays beard stroking philosopher. Bemused at his cultic level of following, Brand puzzles:
What kind of landscape is it, in which I become a moral barometer? The world is operating on a broken template. We are spiritual beings who are not leading a spiritual life.[2]
Despite dubious glorification of Brand's addictions, it is possible to read My Booky Wook as chastened reflection from a serious thinker. Don't get me wrong: this isn't a book that edifies, but somewhere beneath the comedic gloss there is an element of confession and warning from someone who has come within an inch of oblivion. There are heartfelt thanks to individuals who stepped into the hideousness of drug addiction and pulled him out. There is the realisation that being saved from addiction and self-destruction has resulted in a fuller life. Brand also expresses a real empathy toward those at the bottom of the pile:
The thing about being an addict is ... it forces you into unusual places ... Down with the have-nots, the drunks and the junkies, fleeting moments of mutual connection happen quite frequently.
He describes one such encounter with a fellow user:
We'd induced a comfortable silence and I glanced at Barry; orange in the three bar glow, he just looked lost and sad, like my nan when I recognised that she was ready to die, but he was in his twenties – just a man in an empty house, lit by a bar-fire, on drugs he'd found in a dead man's cupboard. A beautiful soul who fell through life.
Reading Brand reminds me about a Christian tradition that goes all the way back to its founder: non-judgementalism. If Jesus Christ moved in any circle in society today it would be 'down with the have-nots.' He did so in his own time and was venomously accused of endorsing the destructive lifestyles of those at the bottom of the heap. His reply was simple and devastating to his opponents: 'It is not the healthy who need a doctor, but the sick' (Matthew 9:12, NIV).
Looking past his misdemeanours past and present, there is something of that 'beautiful soul' in Brand's writing. There is something sick and something of great value. Here is a remarkably confessional comic writer; quite a contradiction. The more repellent his material, the more compelling his subsequent reflection becomes. Does he protest his lack of conscience a little too much?
And his next tome? Brand on philosophy? Frankly, I can't wait.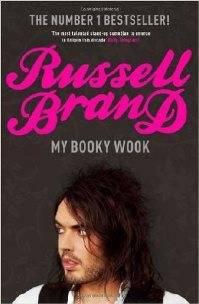 Book title: My Booky Wook
Author: Russell Brand
Keywords: Fame, celebrity, comedy, happiness, hedonism, addiction
Publisher (h/b): Hodder & Stoughton (UK); Collins (USA)
Pub. date (h/b): 15 Nov 2007 (UK); 10 February 2009 (USA)
Publisher (p/b): Hodder (UK)
Pub. date (p/b): 10 July 2008 (UK)
Buy My Booky Wook from Amazon.co.uk or from Amazon.com
---
References
[1] Dominic Cavendish, 'Russell Brand: Showman and shaman faces down the risks of spontaneity', Daily Telegraph,12 December 2007.
[2] Interviewed by Ben Thompson, 'The Devil's Work', Daily Telegraph, 19 June 2006.
© 2008 Roland Sokolowski