Created and Creating - a review
A single white spotlight picked Skepta, the grime MC, out of swathes of red light as he performed at the 2017 Brit Awards. He danced with breathless energy while dressed almost totally in black, which was surely deliberate.
To understand his message, you have to understand the context. When Kanye West performed at the 2015 Brits, he invited Skepta and 30 or so other grime MCs onto the stage with him – and complaints against the performance flooded in. Often these complaints focused on the black clothing and the 'intimidating' style of the dancing, but many people from the grime community suggested there was a strong taste of implicit racism. Shutdown was Skepta's response to the backlash. It was this song that he performed at the 2017 Brits while decked out in all-black trackies.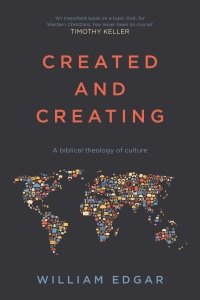 How should culture-makers relate to a world set against them? That is the question that faced the grime community after the 2015 Brits. Rather than withdrawing, Skepta's solution was to go even bigger than he'd done before; and to do so on the very stage that birthed the backlash against him. It was a defiant and important moment for grime music worldwide.
How should culture-makers relate to a world set against them?
The same question has faced Christians through the ages. The Bible teaches that humans were created as culture-makers. Immediately after God creates humanity, we meet Genesis 1:28 – commonly referred to as 'the cultural mandate' – in which humanity is given its mission. But this is followed by the Fall of Genesis 3. After this, humanity and the culture they create becomes corrupted and malignant. Given these truths, how should Christians relate to culture today? This vital question is the reason William Edgar's Created and Creating is so desperately needed.
Unsurprisingly, Christians have approached the question in a huge variety of ways. Having begun Part 1 by exploring historical definitions of culture, Edgar next provides a meaningful overview of these different Christian approaches via some of the key voices on the topic. Notably, he critiques many of these voices – including Abraham Kuyper and C.S. Lewis – in a nuanced and appropriate manner. In this way, Edgar surveys the relevance of the project, as well as the insights and questions accorded to us by our particular point in world history. This sets the scene for what is to come, and ensures we keep our feet in the time and place God has put them.
Here Edgar also begins outlining his central argument: "that the Bible teaches that cultural engagement before the living God is, along with worship, the fundamental calling for the human race" (87). Some may wonder why he does so before he has turned to the scriptures in any significant way. A closer look at the structure of the book suggests a helpful and humble motive, rather than a presumptuous or proud one. By revealing his hand, Edgar invites us to hold his claims up to the light of Scripture, to see if they can bear the brightness.
Edgar invites us to hold his claims up to the light of Scripture
Part 2 sees him do just that, by turning to face those passages that might prove most difficult for his thesis – passages that he refers to as contra mundum texts (Latin: 'against the world'). He begins by laying up the best case he can against his own argument, rooting himself in these texts that seem to oppose Christian engagement in the world. He then tackles these texts one by one, seeking to demonstrate that "our duty to oppose cultural evil is not a war against creation but against the malignancy of sin" (100). Edgar further clarifies the differences when he notes that:
Our investigations thus far tend to confirm the triad of creation–fall–redemption…it is critical for those reflecting on culture to keep the three distinct. Many of the most perilous false views come from confusing them. This is particularly true of creation and fall (116)
Later he adds:
Redemption is not a radical departure from the created order but builds on it and extends it…the basic biblical distinctions are not between the earthly and the heavenly, nor the secular and sacred, but rather between the created order, the fallen world, and the world being redeemed by Jesus Christ (155)
It's in part 3 that Edgar's argument really begins to shine. Turning his attention to the cultural mandate, Edgar distils its key features: blessing, fruitfulness, and lordship. He uses these to more carefully define what he means by cultural engagement: "the human response to the divine call to enjoy and develop the world that God has generously given to his image-bearers" (176). He traces these features through redemptive history, demonstrating their reiteration at key moments, which culminate in the Great Commission (Matthew 28:18–20; Luke 24:45–49; John 20:21–23). Moving forwards, Edgar reflects on how the present and future realities of the New Covenant affect the way that Christians today might live up to the calling of cultural engagement. Crucially, he rejects any dichotomy between the present and future in this calling; describing culture and cultural engagement as "the life of the new covenant, with its fruit bearing and proper dominion" (219). These will be "given their full impetus" in the afterlife (231).
Edgar's theology of cultural engagement is deeply rooted, eminently attractive and gloriously liveable
Created and Creating ably achieves its aims. It is not for everyone, but it is a timely, and biblical theology of cultural engagement which presents itself as deeply rooted, eminently attractive and gloriously liveable. As with any book, there were times when I wished its goals had been larger. The length won't lend itself to the casual reader – although the book is worth it even just for the lucid conclusions at the end of each chapter. Edgar himself notes his deliberate lack of specific application: this book aims to be foundational before it is practical. Quite right, although if he were to write a more practical, mid-level follow-up book then I would buy it in bulk.
One of the most powerful lines in Shutdown comes in the middle of the first verse: "this ain't a culture, it's my religion". It's a powerful maxim, and in many ways seems an appropriate summary of much of Edgar's argument – culture is the right religious practice of the Christian, the way that Christians live out God's covenant. As Skepta declared it, bathed in the white spotlight, there was a sense of both confidence and urgency in his tone. Culture-making is so much in the blood and vision of this movement that to lose it would be to lose the very essence of the community. You can sense that same tone in the way Dr Edgar describes his book: "I'm hoping it will convince people that culture making is not only legitimate, but it's a necessity and a divine calling."[1] If it has half the impact that it deserves, we're in for an exciting future.
Title: Created and Creating: A biblical theology of culture
Author: William Edgar
Publisher: Apollos
Publication Date: 2017
Pages: 262
Price: £14.99
© 2017 Ollie Lansdowne