A Grief Recorded
"No one ever told me that grief felt so like fear." With these words C. S. Lewis hints at the abyss of bewilderment and panic that comes with loss. [1] One of the few certainties of human life is that we will all, to varying degrees, encounter it. We give the name 'grief' to that seemingly insurmountable collection of feelings in an attempt to reclaim control; to provide an explanation for the unwelcome wildness that reigns in body, heart and mind during the early days of bereavement.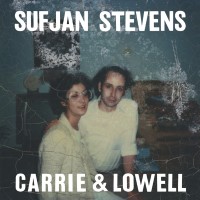 In Psalm 31, David describes the far-reaching effects of grief and cries openly to God: "Be merciful to me, LORD, for I am in distress; my eyes grow weak with sorrow, my soul and body with grief" (Psalm 31:9 NIV).Many since David have undertaken to record their own experience of walking through loss; each unique because of their contexts, each similar because of their humanity. Along with Lewis, the French philosopher Roland Barthes (1915–1980) grieved the loss of his mother in his Mourning Diary and welsh poet Dylan Thomas (1914–1953) raged against the dying of his father in his poem Do not go gentle into that good night. More recently, American musician Sufjan Stevens has given music to mourning his mother on his seventh album, Carrie & Lowell (2015). In these public cultural artefacts, we who are grieving or have known grief as a close companion can find words for our sorrow, voices for our sighing and validation for our doubts and questioning.
Carrie & Lowell is a lament exploring how and why those left behind are to carry on living.
Stevens is already widely and highly regarded for his previous albums, which cover a broad range of styles and themes, as well as for his remarkable live performances. Named by the leader of the interfaith spiritual community in which his father and stepmother brought him up, Stevens experienced a transient childhood, rarely seeing his mother. Carrie & Lowell is named after her and his stepfather, Lowell Brams, who Stevens now calls his closest fatherly figure. As a musician who is a Christian, his lyrics often allude to biblical ideas, but never more so than on this album. With bare instrumentation and ghostly vocals, Carrie & Lowell is a lament, the lyrics exploring how and why those who are left behind are to carry on living. It does not make for easy listening. Themes of regret, doubt, forgiveness, guilt, and absence, and the insufficiency of memories, are hammered out not with volume, but with unrestrained realism. Death makes life more vivid.
Recording in some way the thoughts, feelings and devastatingly fleeting moments of remembering can bring relief to the grieving because it pencils in boundary lines within which to function. In Stevens' case, the writing and recording of Carrie & Lowell was a putting-together of the very few fragments he has of life with his beloved but troubled and mostly absent mother, who died soon after a cancer diagnosis in July 2012. In the opening song 'Death with Dignity', Stevens sings:
I forgive you, mother
I can hear you
and I long to be near you
but every road leads to an end.
In the stories of this album, Stevens aches to reconcile two things that are at odds in his grieving – his need for his mother, and the very little life he got to spend with her.
During the course of the album, Stevens moves from outright bewilderment to answering his own questions and longings with what he knows about God, and who he knows God to be. Early on in 'Drawn to the Blood' he sings:
I'm drawn to the blood
the flight of a one-winged dove
How? How did this happen?
Later, in 'John My Beloved' he responds:
So can we contend
peacefully, before my history ends?
Jesus I need you, be near, come shield me.
Only the Christian life provides the room to weep and ask 'why?' of God
Alarmed by death, Stevens cries out to the God who is in control. Like David in Psalm 31, Stevens is able to doubt and question openly because he assumes there is a personal God of the universe who is sovereign, loving and listening: "I will rejoice and be glad in your steadfast love, because you have seen my affliction; you have known the distress of my soul" (Psalm 31:7 NIV). Knowing who God is, and being known by God, is the only antidote to the wilderness of grief. Remembering who God is abates the fear that would otherwise seek to consume us. Carrie & Lowell is astonishing because it does not wallow in self-pity. It recognises that only the Christian life provides the room to weep and ask 'why?' of God, and in doing so, Stevens is behaving in a truly creaturely way, worshipping the Creator.
References
[1] C.S. Lewis, A Grief Observed. Faber and Faber, 1961
© 2015 Evangelicals Now
A version of this article was first published in the May 2015 issue of the Christian newspaper, Evangelicals Now and is used here with permission.