Why Go to Church? - a review
If you got into the church today, you're in for a big surprise. Or at least that's what John Pritchard would tell you. Why go to Church? is short and punchy (just 40 pages), and strikes gold in the first chapter.
Pritchard stands with the stranger thinking of how awful church is and helpfully engages with all kinds of issues that might stop him or her walking through the doors; from 'not believing in God' (1) to 'the building is cold' (5). I really appreciate his warm and engaging style as he gently pushes back on those issues. Whoever you are go, get the book and read it just for that chapter!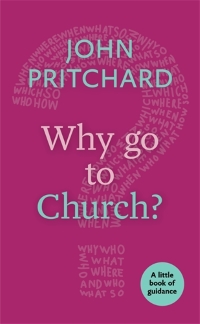 Having raised loads of issues (but kept you reading and not yet giving up on church too soon) he steers us towards some ideas of the benefits of actually crossing the threshold. Our culture, he says, loves journeying and discovering a place to engage with ethical questions, both of which the church has engaged with for many years. His views are expressed gently and with humour, pondering with you that dismissing church might not be the right idea:
It's happened before, every few centuries people discover the Church's faith afresh and wonder why nobody has ever told them about it before! (10)
He works the reader towards a sense that church might not be as bad as they thought, and dangles the opportunity in front of them to say yes to going along.
Pritchard clearly loves the church. He is careful to identify significant weaknesses in his first chapter but his second is his most realistic with hopefulness mixed in. He finishes with a flourish. Why go to church? – 'because there's a saint or two to be found there and saints are exciting' (15). Chapters one and two are good and will just get you looking at different angles of church.
The rest of the book looks practically at different styles of church and has some theology about the centrality of worship. It's all very easy to read but doesn't really address some of the big issues faced in chapter one. Fundamentally he has too positive a view of all types of church in their current forms which left me frustrated that he didn't feel he could say anything bad about any church. This seems so out of place with chapter one because he knows there are problems with churches. But a bit like a pick and mix, he hopes you'll just find the one that is right for you. This even expands to cathedrals where the guest can expect 'part sacred concert, part sacred theatre' (25).
A major weakness is that it's unclear who the target reader is. This book is kind of useful for the person who isn't a Christian and is thinking about going to church. Likewise, it's thought-provoking for the Christian who can't see where the church is weak. But I don't think it would satisfy either audience.
it took no time to read, but has given me plenty of food for thought
Personally I'd have wanted Pritchard to challenge the reader not to be a consumer when it comes to church. But I also wish that rather than being universally positive, he would have spent time weighing up the pros and cons of different styles of church to help the reader decide for themselves. For my money he holds back from making a judgement call, maybe that's helpful because he wants to the reader to do that but personally I wanted a stronger steer from him.
Despite these weaknesses, this is a worthwhile read. It took no time to read, but has given me plenty of food for thought.
Title: Why Go to Church?
Author: John Pritchard
Publisher: SPCK
Year: 2015
Pages: 40
Price: £3.99
© 2017 Matt Porter