C.S. Lewis and Rational Argument
In November 2013, on the 50th anniversary of C.S. Lewis's death, Westminster Abbey honoured the novelist, poet, academic and Christian apologist with a memorial in Poet's Corner. At the same time, a symposium on C.S. Lewis was held in the church next door to the Abbey, St Margaret's, Westminster.
Christian Evidence has produced three videos which capture the key lectures of the symposium.
The symposium marked C.S. Lewis's career as one of the 20th century's most notable Christian writers and thinkers. As well as celebrating his remarkable achievements as a writer of fiction, apologetics and scholarship, the event looked at the question of how, in the 21st century, C.S. Lewis's example can be followed and his legacy continued.
In this opening lecture on "C.S. Lewis and the Rational Argument", Professor Alister McGrath, the author of a recent biography of C.S. Lewis, explores the role that rational, philosophical argumentation played throughout Lewis's life, before and after his conversion to Christianity. The lecture is followed by questions from the audience.
---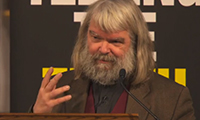 Go to Part 2: C.S. Lewis and Imaginative Fiction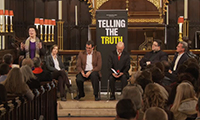 Go to Part 3: C.S. Lewis and 21st Century Apologetics
Also hear audio highlights from the Westminster Abbey Memorial Service to C.S. Lewis.
© 2013 Multiple Copyright Holders
Christian Evidence thanks Westminster Abbey Institute for their permission to film the event and upload it to YouTube. Recording copyright is held by Christian Evidence, Lunar Film and the event participants: Alister McGrath, Malcolm Guite, Michael Ward, William Lane Craig, Michael Ramsden, Jeanette Sears, Peter S. Williams and Judith Wolfe.
Thanks to Macmillan Media for Tourism Ireland for the use of their additional footage.