Christian Persuaders Podcasts
In this Christian Persuaders interview, Alex Banfield Hicks speaks with Stuart McAllister. Stuart talks about his work as a speaker with the Ravi Zacharias International Ministries and about preparing a talk that engages and challenges the audience.
Stuart recommends books on the history of ideas with Paul Johnson's book Modern Times helping to get to grips with the Twentieth Century. He also recommends books on worldviews such as James Sire's The Universe Next Door and Naming the Elephant:Worldview as a Concept as well as C.S. Lewis's The Abolition of Man.
Online resources recommended by Stuart: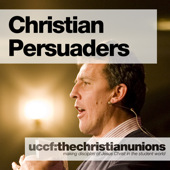 UCCF's Christian Persuaders podcast offers a series of interviews with Christians from around the world who are gifted and passionate about communicating and defending the Christian Gospel.
Alex Banfield Hicks talks to experienced apologists and evangelists who share their wisdom with a new generation of speakers.
If you have further questions or need more information, e-mail Charlie Butler.
© 2010 UCCF